Saar: While the American off-roading icon will get ten plug-in hybrids and four pure-electrics, the Italian luxury carmaker will get eight and four of the same, by 2022.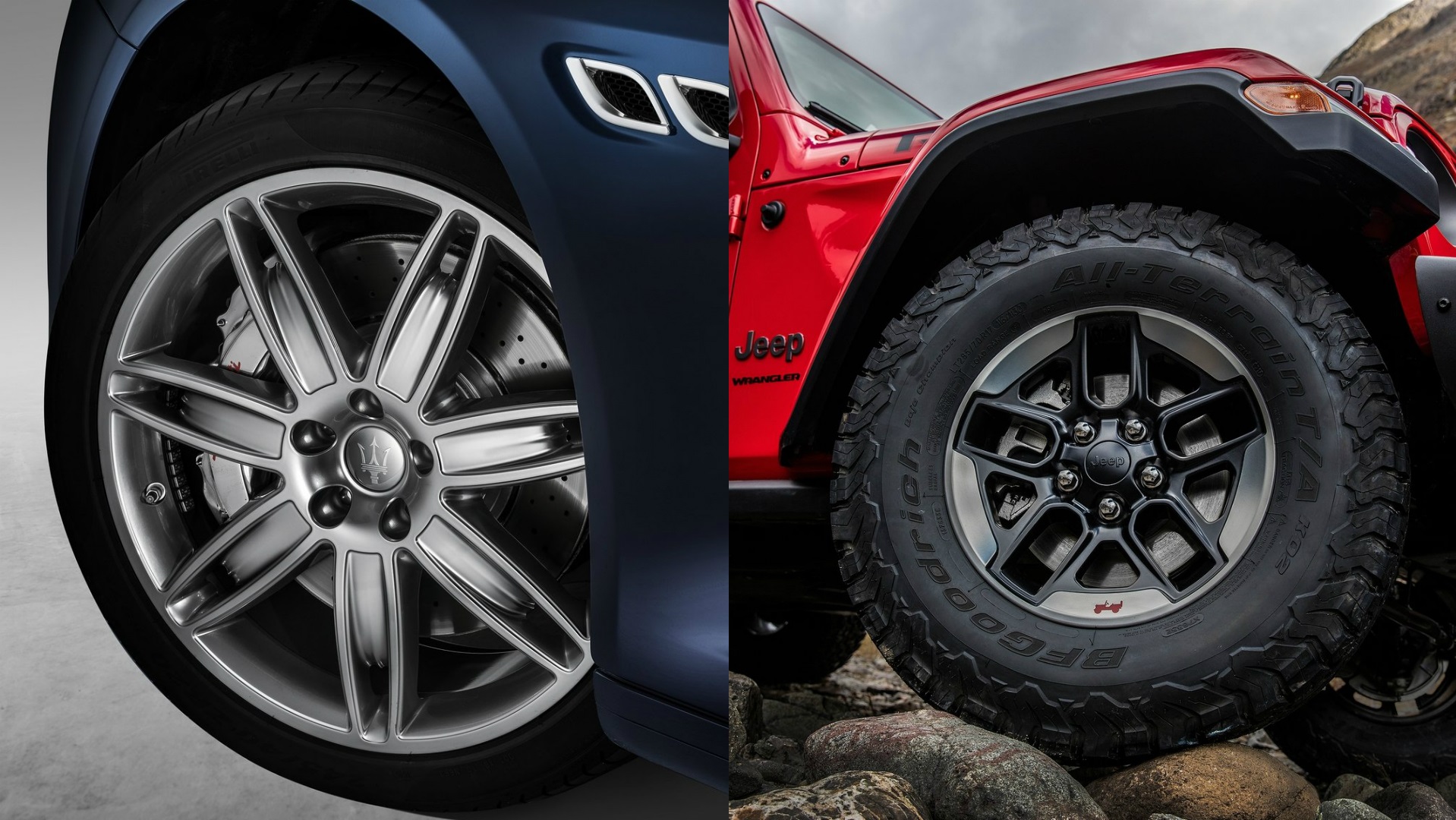 Fiat Chrysler Automobiles' (FCA) head honcho, Sergio Marchionne, today officially revealed what the automotive group has planned for two of its legendary car marques – Jeep and Maserati – from 2018 until 2022. The details were revealed prior to FCA's Capital Market Day, which is scheduled to go live later today in Balocco, Italy. Let's start with Jeep.
Jeep: Roadmap from 2018 until 2022
The American off-roading icon will launch two new products every year until 2022. Additionally, it will revamp its product line to have ten plug-in hybrid models and four pure electric models by the said year. Jeep has also promised that every model in its portfolio will have at least one electrified variant by 2021. Around the same time, Jeep will also introduce Level 3 autonomous tech. Unsurprisingly, diesel engines will gradually be phased out completely.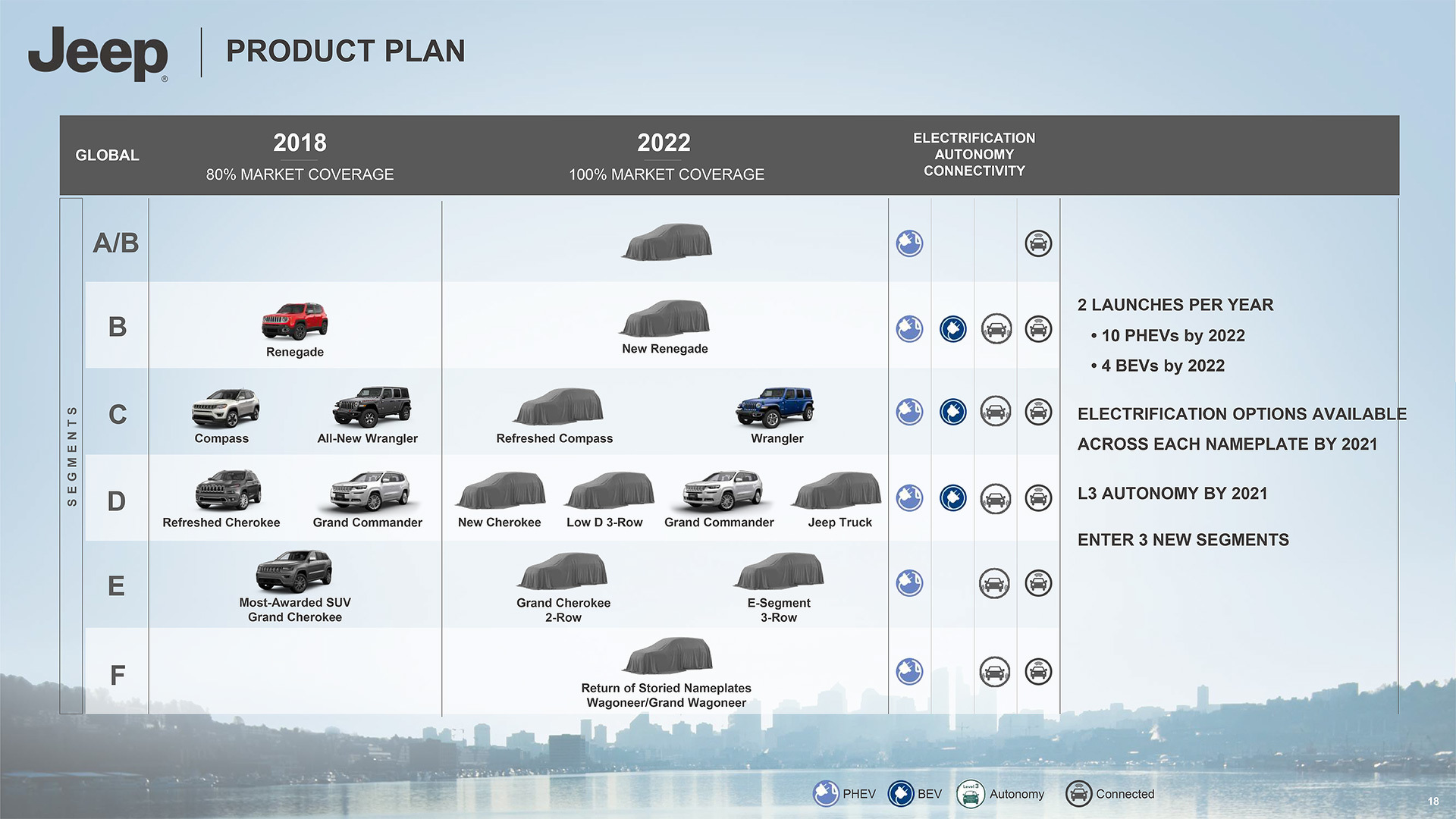 Between now and 2022, Jeep will enter three new segments with nine new/refreshed models. The list includes the new Renegade, an SUV that will sit below the Renegade, mid-life update of the Compass, new Cherokee, two-row Grand Cherokee and the revival of the Wagoneer and Grand Wagoneer nameplates. The latter two will take the crown from the Grand Cherokee model range to become the flagship products in Jeep's global portfolio.
Needless to say, to accommodate the new models and to expand its reach to customers, Jeep will be investing heavily in upgrading its production plants and opening new dealerships. The company will be gunning to create the perfect everyday car and hence will not just be focusing on off-road capabilities of its products but also on their on-road performance.
For India, Jeep revealed that it will not only launch a sub-4 metre UV but also introduce a three-row midsize UV. Those two are in addition to the Jeep Renegade, which is also expected on our shores. The aforementioned midsize UV will sit above the Compass. Additionally, the company will also invest in doubling the dealer points of sale, ramp up production facility by at least 1.5 times and expand service centres across the country.
Maserati: Roadmap from 2018 until 2022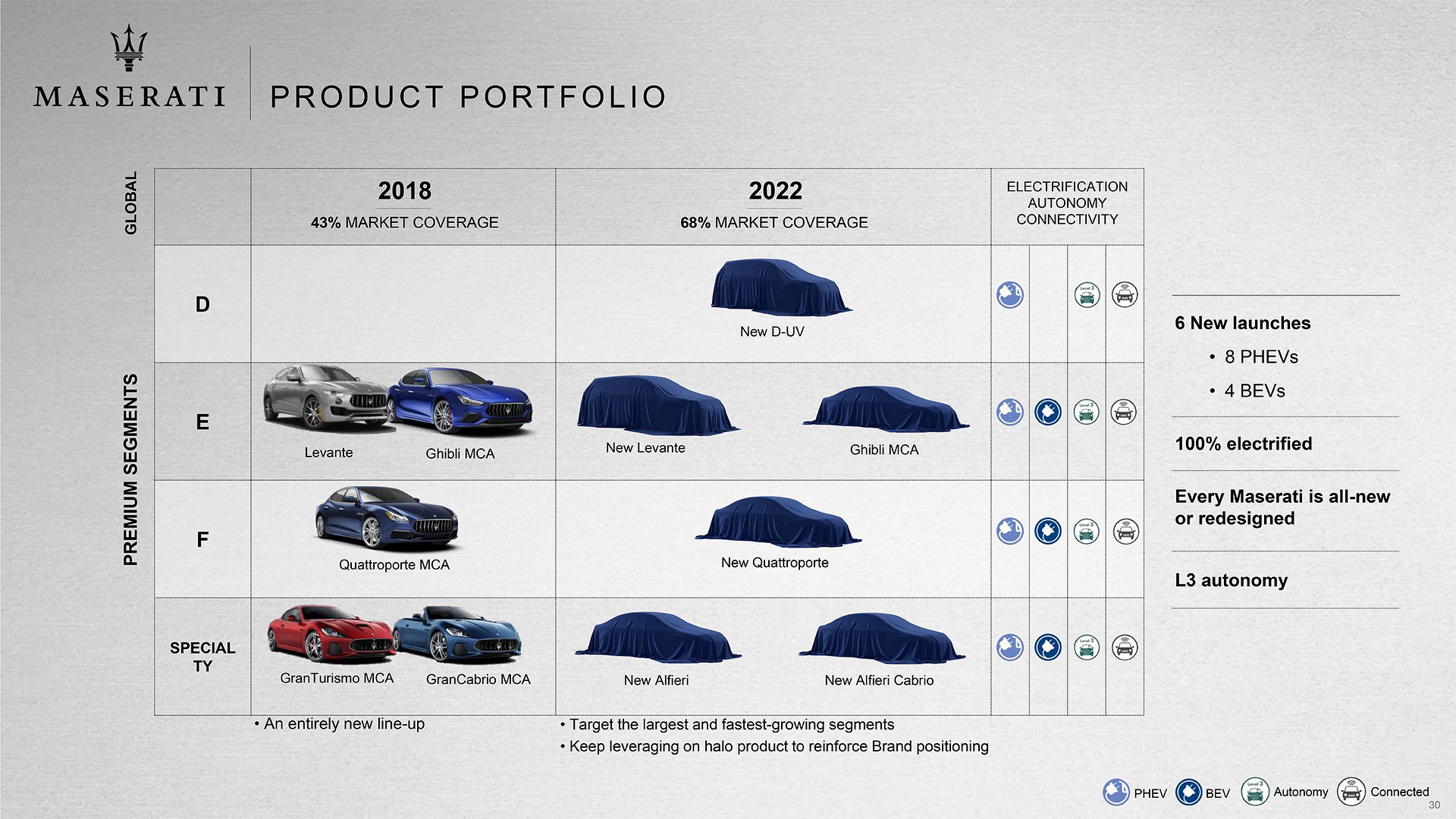 Like Jeep, FCA's primary focus with Maserati is electrification. From now until 2022, Maserati will get eight plug-in hybrid models and four pure-electric ones. Here too, the aim is to offer electrified variants in all models. Speaking of which, by 2022, the Italian luxury carmaker will launch the new generation models of Quattroporte, Levante and Ghibli. Additionally, Maserati will introduce a smaller luxury SUV which will sit below the Levante. However, this new model will be the only one in Maserati's portfolio will not get a pure-electric powerplant.
Replacing the GranTurismo and GranCabrio models will be the Alfieri Coupe and Alfieri Cabrio. Maserati, like Jeep, will also introduce Level 3 autonomous tech in its models. But unlike Jeep, Maserati has been kind enough to reveal some specific details about its electrified powertrains, new-gen Quattroporte and Levante models, and the new SUV that will undercut the Levante.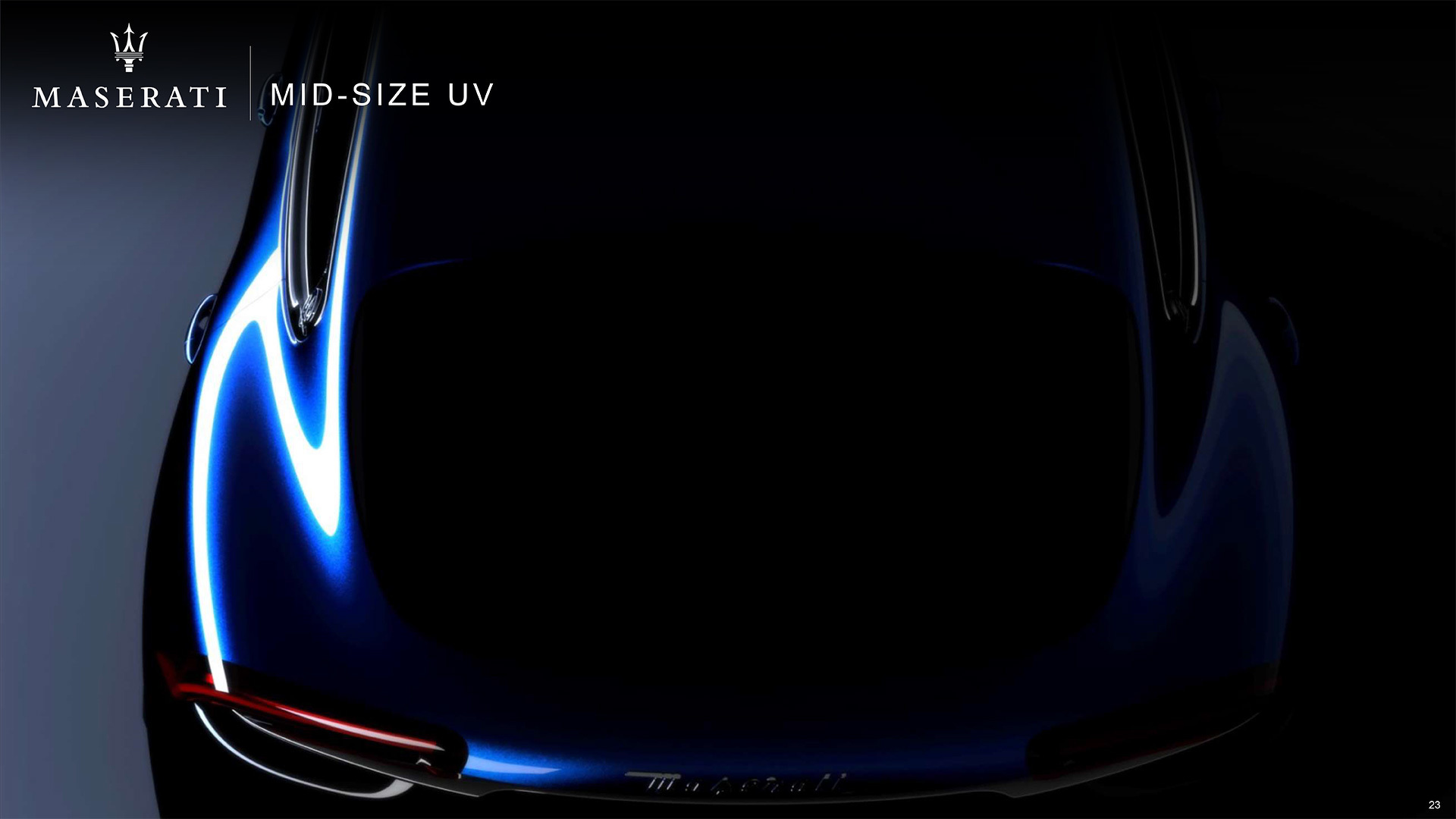 First up, the new mid-size SUV, which was teased in the presentation. Maserati claims that it will have 50/50 weight distribution, backed by "superior" ride and handling, "best-in-class" power-to-weight ratio and a plug-in hybrid powertrain as well. For the next-gen iterations of the Quattroporte and Levante, Maserati says they both will get plug-in hybrid variants, have all-wheel-drive systems, 50/50 weight distribution and will be underpinned by a "state-of-the-art" modular platform.
As far as pure-electric models are concerned, they will fall under Maserati's "Blue" portfolio. The company claims all will have a three-motor, all-wheel-drive setup with torque vectoring and an 800V battery technology. The all-electric powertrain will have "Over 50 per cent more power" and at the same time, offer long range and quick charge times.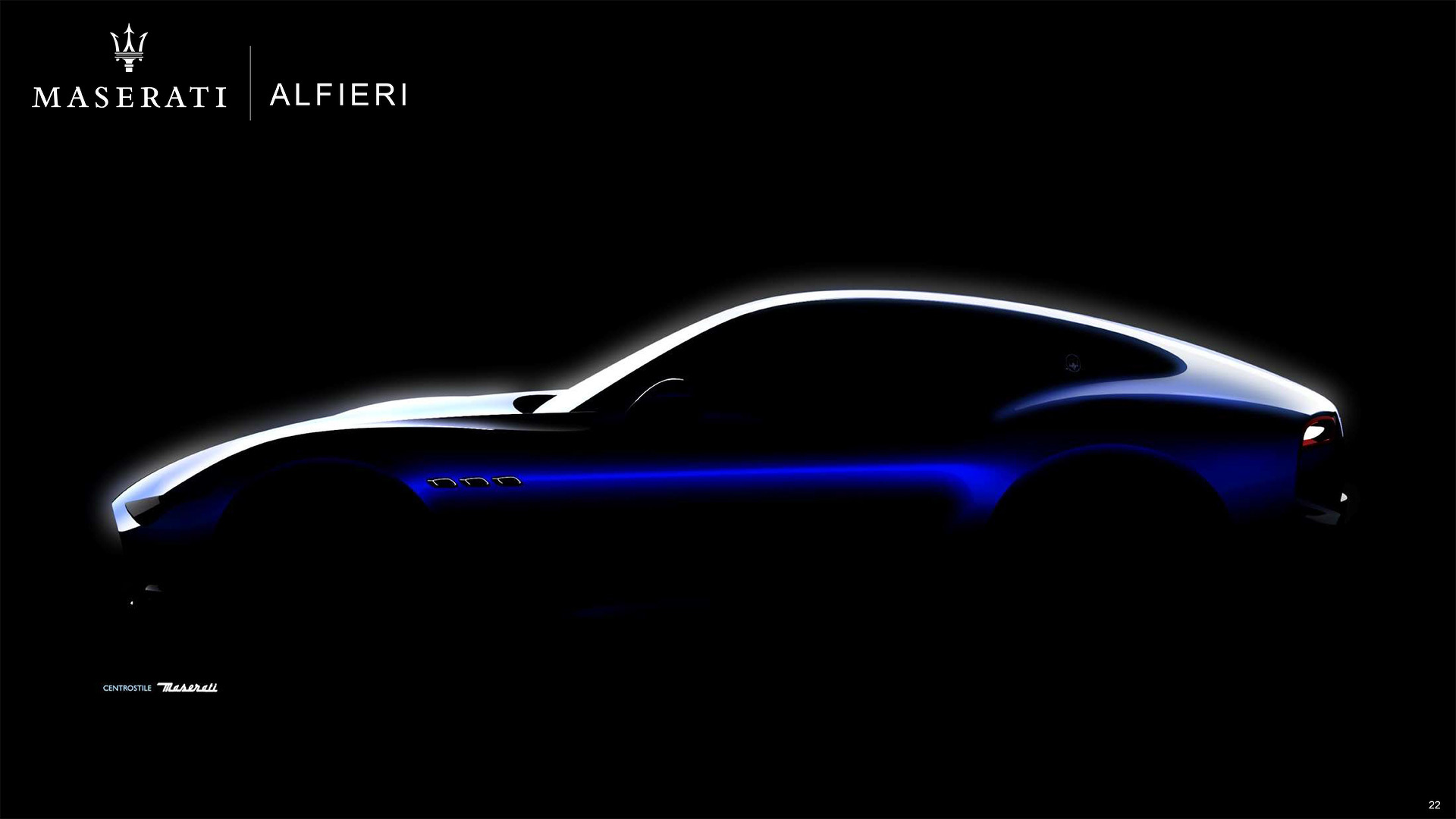 Maserati also released a teaser image of its all-new sports car, the Alfieri. Both its iterations, Coupe and Cabrio, will be underpinned by a modular spaceframe. Thanks to that, the new sports car will feature electronic all-wheel-drive technology, backed by active aerodynamics. Maserati claims that the 0-100kmph times will be around 2 seconds and the top-speed will be over 300kmph.
All-in-all, quite a lot to look forward to. Both brands are available in India, while Maserati brings everything as a completely built unit to our shores, Jeep makes only one SUV locally – the Compass.