Saar: The carmaker has joined hands with Revv – a self-driven, car-sharing platform – to lend its models on a subscription basis.
Got eyes on a Hyundai model but not sure whether to buy it or not? And the test drive wasn't informative enough? Here's a thought! How cool would it be if you could drive around that Hyundai for a month or even a year, and not having to pay for it? Sounds too good to be true? Well, it is possible. The Indian arm of the South Korean carmaker has joined hands with Revv – a self-driven, car-sharing platform. Now, you can drive around a Hyundai car without having to buy it. Pretty neat, isn't it?!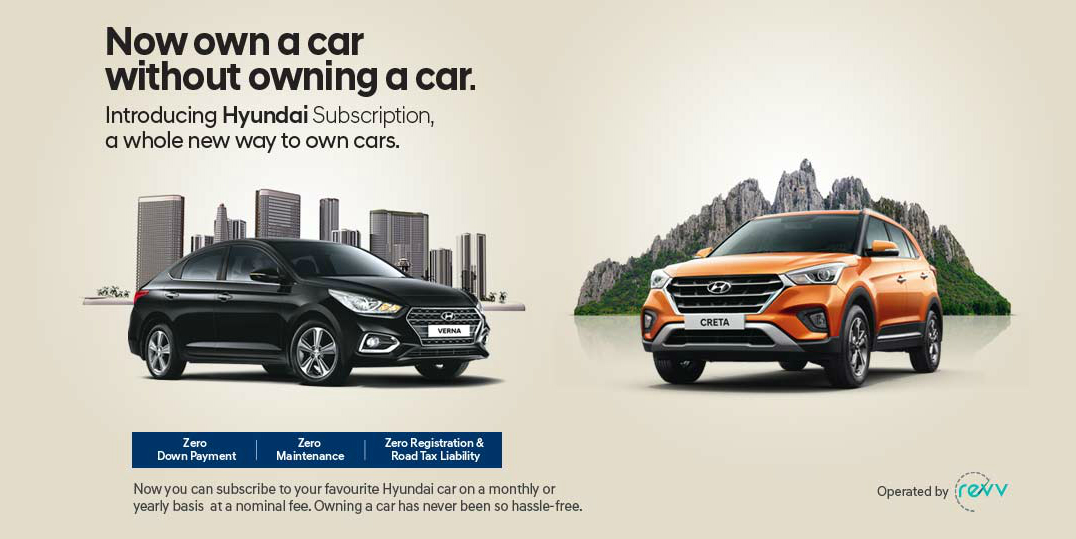 Okay, there were way too many question marks in the start and some, we admit, could have been avoided. But then, we like to paint a picture for you. Anyway, the carmaker is calling this service as 'Hyundai Subscription'. As the name suggests, all Hyundai models are available on subscription bases on a short-term or a long-term period. Customers will even get the chance to swap between models and all this is possible with zero down payment. In fact, for a short-term subscription, customers won't even have to worry about the insurance and maintenance of the car.
More on the short-term subscription. If opted for, the Hyundai model of your choice is available for all days or only for the weekdays. Depending on what you choose and the availability of the model, the subscription charges will vary. Here, if you are lucky, you might get a brand-new Hyundai to experience.
But if you want to guarantee a new car, you will have to opt for a long-term subscription. Here, there is still no down payment to worry about but you will have to absorb the cost of car insurance. At the end of the year, you will have a choice to swop for another Hyundai model, continue with the same one or even buy it by completing the lock-in period and choosing a payment schedule.
So, there you have it. Subscription based services do offer incredible flexibility to experience a car that, otherwise, you would have test-driven for a few minutes. While the short-term plans can be popular with personal car buyers, long-term plans would be best suited for corporates. The partnership between Hyundai and Revv is in its pilot phase and it will kick in before the end of March this year. 'Hyundai Subscription' will be available in six cities, for now, namely Delhi-NCR, Mumbai, Kolkata, Pune, Bengaluru and Hyderabad.